Asphalt Enamel Pipe
Asphalt Enamel Pipeline Coating
Asphalt Enamel (AE) coating  is a plant applied coating based on modified bitumen (asphalt) which has been successfully used for many years for corrosion protection of steel pipes.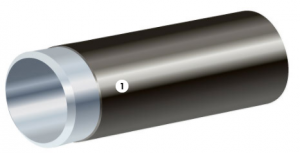 1.Asphalt Enamel
Features & Benefits
Long Term Corrosion Protection
Excellent adhesion to steel provides a track record of long term corrosion resistance.

Recommended for pipelines designed to convey water, gas, oil or any other fluid when the continuous temperature of the fluid being transported does not exceed 70°C (158°F)*.
Engineered Solutions
Advanced manufacturing techniques allow Bredero Shaw to supply AE coatings with varying grades of asphalt enamels and inner and outer wraps along with a thickness as per your design specification.

The system can be applied to various pipe diameters from 90 mm (3.5") to over 1200 mm (48").
Proven Performance
Extensive track record of excellent performance in over 8,000 enamel pipe coating projects

More than 80,000 kms (49,710 miles) of enamel coated pipe across the world.

Proven coating technology for use with Concrete Weight Coatings.
Related Standards and Specifications
GAZ de France R 01

EN 10300

BS 4147

Shell DEP 31.40.30.33

DNV RP-F-106

ISO 9001 :2000
.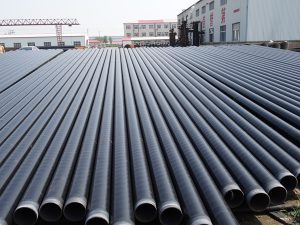 Typical Plant Capabilities and Product Properties
| | |
| --- | --- |
| Capablity/Property | Asphalt Enamel |
| Minimum Pipe Diameter | 90 mm (3.5") |
| Maximum Pipe Diameter | 1200 mm + (48"+) |
| Minimum Pipe Length | 5.5 m (18') |
| Maximum Pipe Length | 18 m (59') |
| Minimum Recommended Operating Temperature | -40°C (-40°F) |
| Maximum Recommended Operating Temperature | 70°C (158°F)* |
Values shown are typical and may vary from plant to plant.
* Actual temperature will depend upon design criteria.
Relevant