LAT-FBE Pipe
Low Application Temperature Fusion Bond Epoxy Powder Coating
Low Application Temperature Fusion Bond Epoxy (LAT-FBE ) is a plant applied powder coating for strain based pipeline designs that require a low application temperature. This coating has high operating temperature capabilities, up to 110°C*, combined with superior handling characteristics especially on pipe above 16" outer diameter.
* Dependent on soil and environment conditions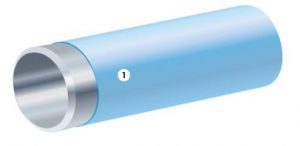 LAT Fusion Bonded Epoxy
Features & Benefits
Lower Application Temperature
Applied at a much lower temperature (200°C) than conventional FBE (245°C).

Maintains steel's initial design mechanical properties even for high strength pipelines (eg: X80 – X120 steel pipe) LAT FBE can be used as an epoxy primer to support a 3-layer system on high strength steel for tough terrain conditions.
Long term corrosion protection
FBE's excellent adhesion to steel provides superior long term corrosion resistance and protection of pipelines operating at moderate temperatures for the designed life.

The superior adhesion properties also provide excellent resistance to cathodic disbondment which reduces the total cost of cathodic protection during the operation of the pipeline.
Related Standards and Specifications
CSA Z245.20

AWWA C 213

AS3862:2002

GAZ de France R 09

GBE/CW 6

NACE RP 0394

NF A 49 706

ISO 10080

ISO 9001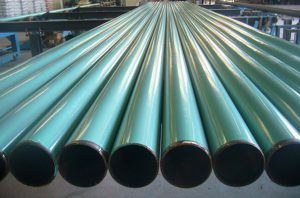 Typical Plant Capabilities and Product Properties
| | |
| --- | --- |
| Capablity/Property | LAT-FBE |
| Minimum Pipe Diameter | 90 mm (3.5") |
| Maximum Pipe Diameter | 1220 mm + (48") |
| Minimum Pipe Length | 5.5 m (18') |
| Maximum Pipe Length | 25 m (82') |
| Minimum Recommended Handling & Construction Temperature | -30°C (-22°F)** |
| Maximum Recommended Operating Temperature | 110°C (230°F)* |
Values shown are typical and may vary from plant to plant.
* Soil type, moisture content, temperatures & coating thickness all influence the upper operating temperature limit as per manufacturers' published literature.
Relevant