Straight Tee
Material
Duplex stainless steel   
UNS S31803  S32750 S32760 S32205 S31254  2507
Stainless Steel
ASME / ASTM SA / A403 SA / A 774 WP-S, WP-W, WP-WX,WP904L  310  321 347H 347, 304/304L,  316/316L, DIN 1.4301, DIN1.4306, DIN 1.4401, DIN 1.4404,
Alloy Steel   
ASTM A 420 WP1, WP11, WP22, WP5, WP9, WP91
Nickel Alloys  
Monel 400 & 500, Inconel 600 & 625, Incolloy 800, 825, Hastelloy C22,C276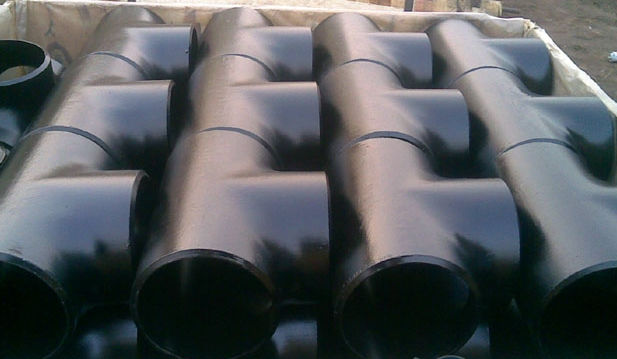 Carbon Steel
DIN 1.0405,ASTM A234 WPB/C, WPHY-42, WPHY-46, WPHY-52, WPHY-56, WPHY-60, WPHY-65, WPHY-70
Standard
ASME B16.9, ASME B16.28, MSS SP-75 , MSS-SP-43 , JIS B2312, JIS B2313  DIN ,GB12459,SH3408,ISO,AS, BS,DIN etc.
Thickness
Schedule 5S, 10S, 20S, S10, S20, S30, STD, 40S, S40, S60, XS, 80S, S80, S100, S120, S140, S160, XXS and etc.
Size
15MM ~ 3200MM
Surface
Painted with black paint (or varnish), galvanized, 3LPE, FBE epoxy anti-corrosion coating,Sand blasting, Galvanize, Painting etc;
Inspection
Chemical Elements,  Mechanical Property,  Metallographic Test,  HIC /SSC,   Heat Treatment,    Ultrasonic Test,   Penetration Test,   Magnetic Powder Test,    X-Ray Test,  Hydraulic Pressure Test,  Blasting Experiment, we can make them according to your request.
Application
Water Disposal, Electric Power, Chemical Egnineering, Ship Building, Nuclear Energy, Garbage Disposal, Natural Gas, Petroleum Oil.
Relevant