3PE/2PE PIPE
The 3PE Coating Steel Pipe enjoys good impact resistance, abrasive resistance, shock resistance, acid resistance, high quality and long service life.
3PE corrosion in process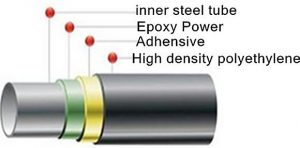 + 3PE Coating
Our 3PE coating steel pipe can be used in transferring natural gas, crude oil and refined oil product over long distance.
Our 3 PE coating steel pipe can be also used in urban fuel gas piping system, storage tanks and groove piping system, protecting pipe in electricity and communication industries and water piping systems.
3PE preservation:
PE anti-corrosion pipe three-tier structure: 
the first layer of epoxy powder (FBE> 100um), the second adhesive (AD) 170-250um, the third layer of polyethylene (PE) 2.5-3.7mm. 
Three of the integration, and steel pipe with a good solid coating. Diameter of Φ159-Φ1220. 
2PE preservation:
PE pipe anti-corrosion two-story structure, the first layer adhesive (AD), the second layer of polyethylene (PE), two kinds of integration.
Coating Material : Epoxy Powder, Adhesion, Polyethylene Or Polypropylene, Cement Inside 
Standard: API 5L (PSL1, PSL2); GB/T 9711.1; 
Grade: Gr. B, X42, X46, X52, X60, X65, X70, X80; Q235B; Gr. C; 
Seam: SAW, SSAW; HSAW
Outside Diameter: 219-2020 MM 
Wall Thickness: 5-25MM 
Length: 4/6/12/18/21 meters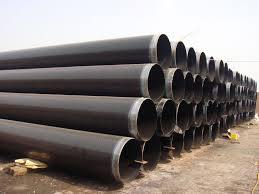 End: Plain or Bevelled 
Surface; Bare or Black Painted or Anti-corrosion, such as 3LPE; 
Inspection: Hydraulic Testing, Eddy Current, Infrared Test; 
The thired party, SGS, BV, can be accepted. 
Certificate: Certificate: API 5L, API 5CT. ISO 9001; CE and so on.
Resistant to chemical corrosion, resistance to cathodic disbondment resistance, mechanical damage to properties.
Relevant